Best Of Me


You may have noticed that my newsletter is a week late. That's because I didn't think you'd take a newsletter on April Fool's Day seriously (and during a short week), so decided to skip a week. I had the most amazing fortnight as I'm back on the road with interstate training, but the highlight was my 10 year wedding anniversary. My husband swept me off my feet with a surprise long weekend in Tasmania and it was magical! It's one part of Australia I never backpacked around and I must say, Hobart was wonderful (and I'll definitely go back). Even my client at Lend Lease was in on the secret with a fake half day planning session which was organised via Jacki. I love surprises! 
Enjoy the read,
Valentina
Banner Ads Don't Have To Suck

I'm a strong believer of the Banner Ad and their effectiveness. Rightfully so, after launching several Apple products (iPod, iPhone, iPad) using banner ads. The argument usually turns to banner blindness, boringness and irrelevance. I loved this article exploring a research study of 38,151 banner ads across the USA and exploring what worked. As the study talks about colours, you may also want to consider the Wheel of Emotion. It shows the emotions evoked by colour and it's fascinating!


Volvo Cars 'Life Paint'

If you're a cyclist, you'll love this new product. If you're a motorist, you'll probably also love this product. The world's safest car now makes it the road safer for bike riders – keeping both drivers and riders safer than ever before, with a spray-on paint. Sounds basic, but this spray-on safety can go on your bike or on your clothes and makes riders extremely visible to drivers at night. I know I could certainly benefit from cyclists using this product. Great job Volvo.

Data Visualisations Improve Conversion

It's a tough headline, but an important one. Our Jacki James has explored how small data visualisations improve customer experience and, ultimately, conversions. Jacki actually has some great practical examples of really complex data sets being made easy to follow and, for customers, easy to understand and convert. 



Awesome Content Creation Hacks

Generating content appears to be one of the biggest pain points for most marketers. If you're after a range of tools that will save your day and keep you sane, then Miranda's content creation hacks are for you. Whether you're going to outsource, insource or create content for multiple platforms, this article reviews plenty of options and their pros and cons. If that's not enough to satisfy your content appetite, then here's an infographic for the Ultimate Guide to Creating Visually Appealing Content.
Technology manifests a plethora of trends on a daily basis, and creating revenue from existing assets is one of those we're seeing explode. Think of Uber, Airbnb or TuShare. This innovative approach has been applied to the iconic Chicago trains. Looking at alternatives to necessary travel, you can now charter one of Chicago's famous L trains to host an event, hold a party or a meeting and still travel around the city. Starting at USD$1,800 it's an affordable venue option that certainly has something different about it. Unfortunately, the rules state you can't serve alcohol (yet).
Five Important Facebook Announcements

The F8 conference is Facebook's annual keynote, and it's happened recently. If there's just one thing you should do as a marketer, it's staying up to date with Facebook changes. For better or for worse, changes will happen and usually affect your marketing initiatives pretty quickly. In this rundown, you'll find info on the new Messenger platform capabilities, mobile ad exchange, video embeds, analytics for apps and app Invites.

Amazon Dash Button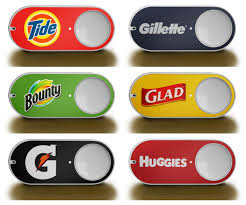 This has a bit of OMG about it. You may remember the Pizza Button from 2012.  Well, Amazon has taken this one step further for their Primecustomers (paid memberships) with the launch of the Dash Button. These nifty adhesive buttons will make sure you never run out of anything again. This is frictionless consumption and ultimate brand loyalty, at the push of a button. Take a look. I'd love to know what you would get a button for! I was imagining my bathroom mirror with roughly 10 Dash Buttons stuck to it!


Bits & Pieces
I'd like to share a joke we played on our junior strategist, Isha, for the first 3 months of her role. I'm not a fan of 'initiations', so the team decided to tell two lies. 1) Mike has a wooden leg, and 2) my husband and I are swingers. Very funny when she figured out it wasn't true, yet did actually think both were believable. 
I'm not so much a fan of the GIF as a response, but a meme is a meme, and even Google likes to have a bit of fun, as they did with this reporter.
If you hate business jargon, and let's admit it, who doesn't, here's a brilliant little site, Unsuckit. It not only provides an explanation, but just enough humour to make you LOL. 
Love a good parody. Here's one from New Zealand about Netflix. Except it's called Nitflux.
International Women's Day recently sparked a reasonable amount of chatter, as it usually does. Mike responded with a look at gender equality within Zuni.
Remember Catvertising? Now there's Reactvertising. That is all.
Tool you might find useful: Blendle. It's iTunes for newspapers and magazines.